More Information – Contact us to price a professional move for this table
Browse pool tables for sale in Davenport, Moline, Silvis, Colona, Le Claire, Park View, Donahue, Walcott, Blue Grass, Buffalo Prairie, DeWitt, Reynolds, Sherrard, Orion and more. Call us for pricing to move these pool tables professionally with our exclusive entire year written service guarantee protecting you from any potential problems with our professional installation.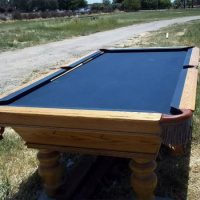 Pool Table for Sale. Comes with 10 Cue Sticks with Rack, Storage Cabinet, Balls, Rack Complete. No move or installation included.
05/23/2018
Price: $ 1,000.00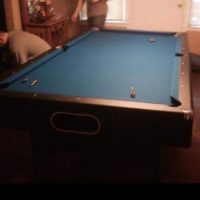 Full size regulation pool table, excellent condition. We had a brand new felt and new drop pockets installed, slates are in excellent condition.
05/23/2018
Price: $ 1,500.00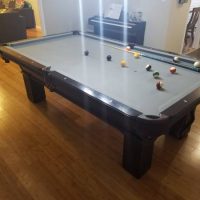 Olhausen pool table with new felt and 3 piece slate. Professionally installed and plays perfectly. Balls, cues, rack and cover matching wall mount cue holders included.
05/23/2018
Price: $ 1,000.00